Christian Challenge Staff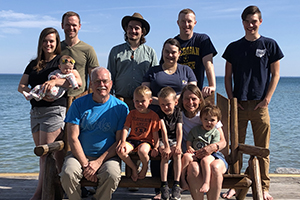 Kevin and his family: Back row left to right - Rob and Jessica; Kurt; Brianna and John David; Front row - Luke, Emily, Kevin and John Mark
Hobbies: Reading, video games, Tae Kwon Do, Crossfit, woodworking projects and taking a walk through the forest.
Favorite Verse: 2 Thess 3:13 "And as for you brothers, never tire of doing what is right." NIV
Fun childhood memory: The first time I went fishing. My dad and I took a boat out into the lake and we started fishing. In about a minute I caught my first fish. I caught fish so fast my dad quit fishing and just spent the time putting worms on my hook. In about half an hour I had caught 19 fish. That night in my sleep my parents could hear me calling out, "Dad, I caught another one!"
Nick and his family: Left to right - Nick, Shawn, Alex and Kelly
Hobbies: Playing and watching sports, spending time outdoors, family history and genealogy.
Favorite Verse: Gal 2:20 "I have been crucified with Christ and I no longer live, but Christ lives in me. The life I live in the body, I live by faith in the Son of God, who loved me and gave Himself for me." NIV
Fun childhood memory: I used to be a competitive swimmer. One day after practice, many of the other swimmers decided to go jump off the diving board. I had never jumped off a diving board before and was very scared. I decided to try it. My turn came and I slowly crept out near the end of the board and stared at the water below. I counted to three many times in my head but never jumped in. Finally, I jumped! For the next hour or two, I kept jumping in with my teammates. It was so much fun!